WHAT'S NEW

12/2/2021 - 1:55 P.M. EST:
Got plenty of new stuff for you today, so let's get started.
Bandai Namco has uploaded the Namco Museum of Art Splatterhouse video to their international page, complete with English subtitles. If you haven't watched it yet, I have it linked on the YouTube Videos page. I also went through it and snagged some nice, clear screenshots of the artwork for the cancelled Wanpaku Graffiti sequel and the cancelled 2003 reboot! Take a good look at those on the Official Art page.
The Additional Info pages for both Splatterhouse 2 and Splatterhouse 3 have been updated as well. For Splatterhouse 2, I've added some magazine screenshots of the prototype, which show Rick wearing a red Terror Mask that looks almost exactly like the one he wore in the Turbografx-16 port. Take a look at them here. For Splatterhouse 3, I've added pictures of the box and cartridge for the Korean version of the game, courtesy of Sega Retro. Take a look at them here.
One last bit of news: as of this past Saturday, the 27th, Unbox Industries began their first wave of preorders for the Splatterhouse 2 Rick toy. If you missed out, they'll be offering them again in the future, so you may want to keep an eye on their store and their various social media sites. I did snag all the promo pictures that I could, which you can see on the Miscellaneous page. For that matter, I added pictures of the box for the last known piece of merch to be given out by Namco Bandai during the promotional campaign for Splatterhouse (2010), a set of Splatterhouse-branded speakers, which you can see on the same page.
Not sure if I'll be back to update again before the New Year, so if I don't make it back before then, have a good holiday, and I'll see you in 2022.
11/23/2021 - 11:35 A.M. EST:
Happy Splatterhouse Day! Eleven years ago today, Splatterhouse (2010) was released. I couldn't very well let today go by without acknowledging that, so I made a quick update the YouTube Videos page. It now includes all of the official Namco videos about the series that I could find with a quick search, including a whole slew of promotional videos for Splatterhouse (2010). Go take a look!
11/21/2021 - 3:05 P.M. EST:
Took a quick break from writing to update the YouTube Videos page. Look for videos from OfficeArcade, RGT, MichaelBTheGameGenie, The Aging Gamer, Erin Plays and DBPG!
On a side note, I went to see Ghostbusters: Afterlife yesterday, and I liked it a lot. While not without its issues, it was still really good, and was a worthy conclusion to the series.
11/19/2021 - 12:00 A.M. EST:
Got some more new stuff for you. First, Trever contributed a piece of fanart, which you can find in the Fan Art section. Second, syphic contributed new pictures of the Splatterhouse items from the NEC promotional campaign in 1990. Find them in the Miscellaneous section.
As you may have noticed, I haven't updated the site in over a week. There's two reasons for that. One, after the initial catch-up phase, I ran out of stuff to post. Sure, maybe I could have spread it out a bit more, but to be honest, a lot of it I was just discovering for the first time, so I posted it as I found it.
Second, and the more important of the two to me: work on two of my books recently picked up steam, and is now moving along steadily. The first one is a complete guide to the Sega Genesis, and it's a long way off from being finished, so don't hold your breath waiting for it. I can't talk about the other book much yet, but I can tell you that it's being co-written by the former webmaster of the Strider fansite The Light Sword Cypher Mainframe, Scion; it's an original work of fiction; it's been in the works on and off for twenty-one years; and we're hoping to have it ready to go in early to mid-2022. Naturally, this is taking the lion's share of my attention right now. But I did say back in my Halloween update that this was going to happen, so I hope nobody is surprised by this.
However, if anything new comes my way, I will be posting it. And as always, if you don't stop in here on a regular basis, you can always check West Mansion Facebook or my Twitter page, as updates are always announced on both pages.
One last thing: not a single person has sent me a picture of their Splatterhouse ink, so I'm still asking for pictures. Even if you don't have any, spread the word around, maybe I'll get some submissions.
11/11/2021 - 10:30 A.M. EST:
Back again with some more new stuff! I'm getting some serious flashbacks to 2001, when West Mansion made its debut on Classicgaming.
I've added some new Japanese fan art, a look at a Splatterhouse 2 pin and sticker set from 2019, and a brand new page in the Miscellaneous section dedicated to YouTube videos about the series. Not walkthroughs or longplays (although I may add those in the future), but opinion pieces, reviews and all points in between. Go take a look, you may find something interesting you haven't seen before.
Another thing I've done is add images for the recent Nintendo Switch releases (Namco Museum, Namco Museum Arcade Pac and Namco Museum Archives Vol. 1/Namcot Collection Vol. 1) and both the My Arcade and Pac-Man's Pixel Bash cabinets. You can find them in the Additional Info sections for Splatterhouse and Splatterhouse: Wanpaku Graffiti. I've also added a few screenshots of the Switch port of Splatterhouse, all the way down at the very bottom of that page. I also discovered a boatload of Splatterhouse mobile screenshots that I completely forgot I had. They were tucked away in a subdirectory of a subdirectory.
I also dug up something I did years ago. On top of that, Splatterhouse: Jennifer Smells of Rot is starting to be noticed. Very cool.
One last thing: do any of you have Splatterhouse tattoos? Want to show them off here? I'll be starting another new page for fan-submitted tattoos. If you want to share yours, just email me at gradiusone[at]yahoo[dot]com and let me know!
11/9/2021 - 10:15 A.M. EST:
Trever's brought me some news, and a reminder of something I forgot about some time ago. Anyone remember a fanmade Splatterhouse trilogy for the Dreamcast made with the Beats of Rage engine: Splatterhouse Episode 1: Deception of the Mask, Splatterhouse Episode 2: Journey Through Hell and Splatterhouse Episode 3: Back to Light? They've been available for ages now; in fact, you can head over here to download the three disc images which can be burned and played in your Dreamcast, if you have one.
But that's not all. There's also an updated version, also for the Dreamcast, titled Splatterhouse: Eternal Nightmare, and it features Biggy Man as a playable character! So if you've ever dreamed of slicing things up with Biggy's dual chainsaws, you can go here and download it.
You can expect new pages for these games in the Fangames section soon.
I've also finally... finally... updated the information about the band Splatterhouse in the Trivia section (find them in the Miscellaneous section). I just realized I still had their ancient webpage and MySpace page linked, so I went and changed that to link directly to their Bandcamp page. You can also find them on Instagram, for that matter. They just posted some news too, so go take a look!
I've also created an entirely new page for the Zenithfilms web series Splatterhouse: Jennifer Smells of Rot, which you can check out here, or by going through the Fan Fiction section in the menu on the left. It's loaded with promo images and film stills, as well as the links to each installment of the series on YouTube. If you haven't watched the series so far, I strongly recommend it.
On top of that, I've updated the About WM section yet again, this time with a page all about... me. I thought perhaps some of you would like to learn a little bit more about the man behind the scenes, so I put together some facts about me, coupled with an essay on my history with Splatterhouse, so if that sounds interesting to you, go check it out here, or by going through the About WM link in the menu on the left.
Finally, here's a real unexpected bit of news. Back in 2002, I'd started up a third series fansite, this one called Metal Slug: Iron Cavalrymen in Hell. To my knowledge, it was the first English-language Metal Slug fansite online, and at first, I kept up with it as much as I could. However, it soon became obvious that by trying to run three videogame fansites, The OPCFG, my own personal website zero signal and several other smaller sites for friends, I had stretched myself far too thinly. I turned the login details for my friends' sites over to them, but that wasn't enough. I had to make a decision and let at least one of my fansites go. It certainly wasn't going to be West Mansion or The OPCFG, zero signal was personal, and I was still enjoying working on The Ghoul Realm. In the end, Iron Cavalrymen in Hell got the axe (although I did later turn over The Ghoul Realm to someone else and shut down zero signal for good). It was turned over to another Metal Slug fansite webmaster who promised to integrate my site into his, and well... that didn't happen. His site eventually closed for good, and I had none of the original site backed up at all.
While working on the new page about me, I remembered the old site and decided to check the Internet Archive, see if they had any of it saved. They did, all right - the whole damned site, aside from a lot of images. So I grabbed everything that I could, did some quick and dirty HTML edits, and archived it here for historical purposes. There's now a link leading to the archive on the main page, or you can just click here to get to it.
Oh, and one other thing...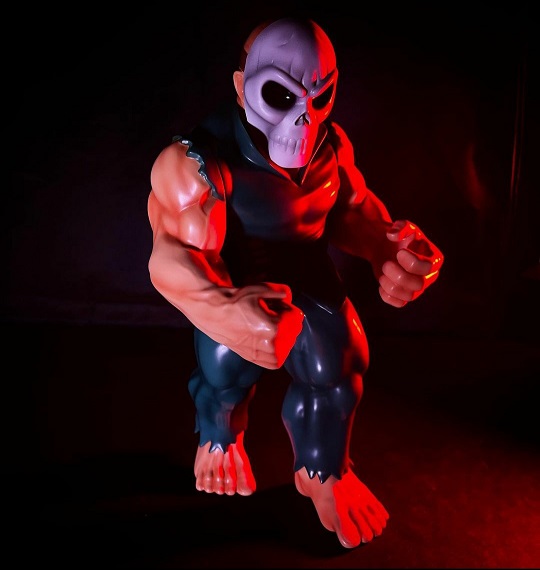 Unbox Industries just unveiled this (click the picture to see it fullsize). Get your wallets ready, looks like a new line of toys based on Splatterhouse 2 is coming soon!
That's it for now. I'll be back later.
11/6/2021 - 4:38 P.M. EST:
Work on the site continues. I recently split the Artwork, Trivia and Miscellaneous sections up by category. Makes them a bit easier to navigate, and breaks them down into more bite-sized chunks. If you go take a look at the Artwork sections, you'll find some new images: in the Official Artwork section, there are some new character renders from Splatterhouse 2010, pictures of the only known artwork from what could only have been Splatterhouse: Wanpaku Graffiti 2, and in the Cosplay section, I posted two pictures of Vlygar in his Halloween costume this year. I've also added a new link to the Music section.
Also, if you check the various pages on the site, anything that has a

image next to it is something I added recently (unless I missed some old ones, which is entirely possible). Go ahead and look around for them... consider it an Easter Egg hunt! Here's a hint: check the Additional Info sections for each game.
That's all for now. And if you're wondering about that big announcement I mentioned last update: keep watching.
11/5/2021 - 12:19 P.M. EST:
Back again with another update, but this time it's a personal one for me.
As I mentioned in my Halloween update, I'd gotten divorced in 2011, the same year I shut West Mansion down. That was part of the reason I shut the site down, because I still had to deal with my ex-wife. That stress, on top of work and just overall burnout from the preceeding three years of the constant ups and downs regarding Splatterhouse 2010, just put me in a very bad place at the time, and I had to step back and re-evaluate my life. I moved across the country at the end of 2012, for several reasons.
Of course, life likes to hit you with major changes when you're not prepared for them. In early 2013, I met the woman that later became my wife in 2015, Karry. On our first date, we did end up telling each other about ourselves, and it eventually came out that I had been an unofficial consultant for Namco Bandai during the development of Splatterhouse 2010. She was intrigued by this, and I ended up telling her all about West Mansion, even going into detail about some of the stories I worked on - and she didn't run screaming for the hills. It turned out she was quite a Stephen King fan, and she's always had an interest in horror, and videogames for that matter, although she's much more of a PC gamer than I am.
When we announced we were getting married, we sent out invitations we'd commissioned from PrimeOp (who you might remember from these two pieces of artwork). Believe it or not, the invitation was Karry's idea, not mine. If you don't believe it, that's fine, no one else did either. But it's true!
Karry has been very supportive in everything I've set out to do. Not only did she save my life when I very nearly died last year, she's encouraged me to write, and helped out with images and layouts for both Memoirs of a Virtual Caveman (available in print or as an ebook), and Tales From The Third Moon (both still on sale!). She's very artistic, and has even created resin Splatterhouse keyrings that were available for a limited time on Instagram. If there's enough demand, she might whip up a new batch of them. As always, drop me a line at gradiusone[at]yahoo[dot]com if you're interested. You can find additional pictures of the keyrings in the Miscellaeous section, in various stages of their development.
I may have another big announcement about the site soon. Stay tuned!
11/4/2021 - 6:50 P.M. EST:
Got some cool new stuff for you today.
First, Trever "Jack_Vincent13" Durhammer has told me about a ROMhack of Splatterhouse: Wanpaku Graffiti he's working on, Splatterhouse: Wanpaku Graffiti DX. I was reminded also of a ROMhack released last year for Wanpaku Graffiti, Evil Dead: Ash Lives! by Crying Onion. So now, in the Games section, you'll find a new category for ROMhacks. You'll also find a new section for a Splatterhouse 2 hack that changes the colors and the Terror Mask to how it looked in the original Splatterhouse. Go take a look! I've also added a page for the excellent bullet hell shooter-take on Splatterhouse, Shooterhouse!
I've also added scans of the Korean videogame magazine Gameworld from 1990 in the Additional Info section of the TG16/PC Engine port page that has a walkthrough of the PC Engine game. The scans were graciously provided to me by fellow author Eugene Myers, who recently released a new book in the RWBY series, RWBY: Roman Holiday, which you can check out here if you're interested. He also hosts an entertaining series of videogame streams on YouTube, which I sometimes participate in. If you jump into any of Eugene's streams, just look for dire51 in the chat!
But that's not all: the promised update is at hand! In the Miscellaneous section, you'll find an entry for the Unbox Industries Splatterhouse toys, with loads of pictures courtesy of turbocr1ck3t! He was also cool enough to send over several pictures of the Splatterhouse pins sets from Boss Fight Pins.
In related, yet unrelated news, I've reopened my old OPCFG blog. There I'll be talking about whatever crosses my mind regarding videogames, as well as announcing all West Mansion updates, which will be immediately posted to my Twitter page. For those of you active on Twitter, but who don't check West Mansion all the time, that'll be the best way to find out when the site's been updated.
That's it for now. Site cleanup is ongoing, but I don't think there's enough left to be cleaned up that's update worthy. So if anyone of you have anything Splatterhouse related you'd like to contribute, send it to me at gradiusone[at]yahoo[dot]com.
11/3/2021 - 1:15 A.M. EST:
Here's a quickie update before I go pass out: I've done some minor tweaking to the site tonight, including filling out the About West Mansion section a bit more to account for the past decade, removing dead links (but not upgrading them to hyperlinks! - bonus points to you if you get that reference), and just some general site cleanup overall.
It's slow going, but I am bringing the site up to speed, little by little.
11/1/2021 - 10:16 A.M. EST:
Back for only one day, and I already have some new stuff to add.
First, I want to thank Bruno and his wife Eliana for these amazing Splatterhouse cookies that she baked. They taste just as good as they look! 10/10, would eat again.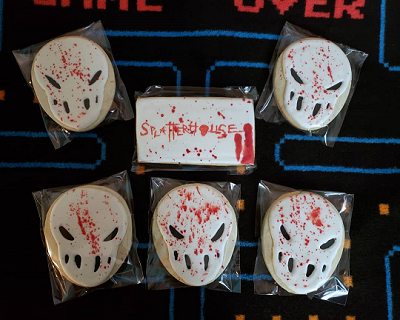 Second, I've added a boatload of the various gachapon figures to the Miscellaneous section. All officially licensed by Bandai Namco, these are Japanese-exclusive figures, which were sold at the various Wonder Festivals over the years. Go take a look! Don't expect to get ahold of them easily, though, as they were limited releases and the prices have gone through the roof.
I've also added a mention & picture of the 2019 Red Gorilla Records Splatterhouse 2 vinyl OST release to the Music section.
Zenithfilms has added the third installment of the series Splatterhouse: Jennifer Smells of Rot on Youtube as of last night! Check them out here:
I've also added them to the Fan Fiction section.
That's all for today, but coming soon there's going to be a massive update about the Unbox Industries Splatterhouse toys, courtesy of turbocr1ck3t! Stay tuned!
10/31/2021 - 11:20 A.M. EST:
Surprise.
Coming at you with an out of the blue Halloween update, it's your old friend Rob, or "The Splatterhouse Guy," as I'm known these days. So what's been going on this past... *checks watch*... decade?
Before I get into talking about Splatterhouse, though, a little about what I've been up to. The same year I closed the site, I got divorced. Then I moved across the country. Then I met my wife in 2013, and got married in 2015. And recently, I've become a grandfather, several times over. That's just hard to believe.
However, I almost didn't make it far enough to see my grandkids. Towards the end of 2020, I almost died, because my liver malfunctioned thanks to an internal bleed. I lost an entire weekend while the doctors frantically tried to save my life. They even went as far as to tell my wife to prepare for the worst, because I was that close to death's door at one point. I recovered, but I'm not out of the woods. I may still need a liver transplant, and because of the severity of my condition, I've had to go on disability. Of course, my medical bills are a constant thorn in my side, so if anyone feels like sending me any help, there is a GoFundMe set up for direct donations, or you can always contribute by buying one of my books (or more). I've authored or co-authored three books since 2011: Memoirs of a Virtual Caveman (2014) (available in print or as an ebook), Hardcore Gaming 101 Digest Vol. 3: The Guide to Retro Horror (2018) and Tales From The Third Moon (2021).

Memoirs of a Virtual Caveman & Tales From The Third Moon artwork by James Beaver; The Guide to Retro Horror artwork by Rusty Shackles
Don't worry, all three books do have some Splatterhouse content in them (of course, you can tell that about The Guide to Retro Horror just by looking at the cover). Would you expect any less from me? I've also contributed to several other books, among them several of the books in the Hagen's Alley line (The Nintendo Entertainment System Compendium, The Super Nintendo Compendium and The Complete SNES), the Brett Weiss books The SNES Omnibus Volume 1 and Volume 2, and I was also an early contributor to Little Player magazine.
These days, if you want to keep up with me, I'm fairly active on Instagram and to a lesser extent, Twitter. I do post about all things Splatterhouse on both accounts, including any major news, which I usually also end up forwarding to the guys that I asked to take over West Mansion Facebook when I stepped back from running it at the end of 2018. Also, I was a guest on the Region Free Gamers podcast last year, discussing the series.
So, speaking of Splatterhouse...
There really isn't much news to report these days. A lot of people out there predicted the end of Splatterhouse after Splatterhouse 2010 was released (if you've never read this, Polygon ran an article in 2018 going into detail about what happened with Splatterhouse 2010's development: Splatterhouse 2010: What went wrong. I've directly linked people to that article on several occasions before, because it's spot-on accurate). But as I've always said, the series has been known to rise from the dead before. Splatterhouse does in fact live on, mainly through legacy re-releases of the earlier games. It's very easy to get a Splat-fix these days because of this. Want to play the original arcade game on any time? Pick up the Namco Museum for the Switch. Want to play Splatterhouse: Wanpaku Graffiti without paying ridiculous prices that eBay sellers are charging for an original cart? Get the Namco Museum Archives Vol. 1 for Switch.
This, of course, marks the first time that Wanpaku Graffiti was released outside of Japan. A milestone, that is. It would have happened in 2010, if I'd had my way about it, but the Splatterhouse 2010 team felt differently. I don't hold it against them, though.
On a side note, there's also a free Wanpaku Graffiti skin for Pac-Man 99 on the Switch. I recommend checking it out if you own Pac-Man 99.
You can also play the Turbografx or PC Engine port of the original game on one of the PC Engine Mini consoles, although if you missed the boat on this one, the aftermarket prices have shot through the roof. There's the My Arcade Namco Museum mini arcade that has both Splatterhouse and Splatterhouse 2 built in, and if you're rich, you can also drop a few thousand on the Pac-Man's Pixel Bash full-size arcade cab. Splatterhouse is just one of the many arcade games included. Splatterhouse 3 is the only game in the classic series not to get some kind of re-release since 2010, sadly.
However, there is one thing I want to point out in particular. In the eleven years since its release (my god, has it really been that long?!), Splatterhouse 2010 has gone from being a "failure," to a cult classic, to one of the most in-demand PlayStation 3 & Xbox 360 games. Prices on both versions are consistently rising. I've seen copies of the PS3 version going for close to $100 on eBay, and in couple cases breaking that mark. The 360 version isn't far behind. I know eBay isn't the most reliable way to judge prices, but the fact that they've also sold at those prices is food for thought.
I'm sure some of that can be attributed to the current insanity that is retro game pricing (when did the PS3 and 360 become retro, anyway? I missed that meeting), but also judging by comments I've seen, people are more accepting of the game now, judging it on its own merits and not just blasting it as a God of War ripoff or complaining that it's not a sandbox GTA clone or an FPS or (insert whatever else was popular ten years ago, during the "Gears Years"). That, if nothing else, is pretty gratifying. Personally, on behalf of the team that worked so hard on the game, despite all the setbacks thrown in their direction, I feel pretty vindicated.
I also strongly recommend checking out this Namco Museum of Art video, which shows off a ton of Splatterhouse artwork, including the only evidence that a sequel to Wanpaku Graffiti was in the works at one point!
And now, the burning question.
Does this update mean that West Mansion is back up and running?
The answer is... yes, but with conditions. Has it really been twenty years since I started the site, and ten years since I shut it down? Doesn't seem like it sometimes. But why bring it back now? I was pretty badly burned out by the time I shut the site down back in 2011, and dealing with the fallout from my divorce was no help. I honestly thought this was behind me. Things have changed a lot over the past ten years, and fansites have just about gone the way of the dodo. Still, after taking ten years off, I feel renewed... and perhaps just a little nostalgic. I thought long and hard about the possibility of reviving the site after seeing that Kurt Kalata updated The Castlevania Dungeon for the first time in nearly a decade.
In the end I decided: damn the torpedoes, I'm bringing it back - and if I'm going to do this, I'm committing myself. It will take a lot of time for me to completely overhaul the site and add new things to it (undoubtedly you've noticed the minor facelift, though), and it's not something I intend to do immediately, but I will work on it from time to time. I am a bit rusty when comes to HTML, seeing as how I haven't really done much with it over the past ten years - I had to give myself a quick crash course just to post this update - but on the other hand, I do have a bit more time on my hands now than I did then, thanks to the liver disease. So now that I've started updating again, you'll undoubtedly notice errors as you browse through the site, as I slowly bring things back up to speed. Feel free to report them to me at the site's submission address so I can get them fixed up. Of course, new news - ANY news - about Splatterhouse would be a big help when it comes to updating.
Also, all links to the old forum, The Third Moon, have either been removed or are in the process of being removed. As T3M no longer exists, it doesn't make any sense to keep those links around.
I've already uploaded a brand new submission to the Artwork page, in the fanart section: a custom label for a Splatterhouse: Wanpaku Graffiti reproduction NES cart by Bruno "BL85gamer", one that strongly resembles the labels for games that Bandai was releasing at the time. As Bandai distributed several of Namco's Famicom games in US, it makes sense that if they'd successfully managed to bring Wanpaku over, the label on the cart would have looked close to the one Bruno came up with.
I've also updated the Credits page with some long, long overdue credits, as well as a few new ones. Go take a look!
I did mention conditions earlier, and simply put, even though I've committed myself to bringing it back, West Mansion is not high on my priority list. I have life to deal with, including family commitments, medical appointments and my writing, which all top said priority list. But still, it might pay to keep an eye on the site from time to time, because you never know what the future might bring.
---