WHAT'S NEW

image courtesy of serjio
11/25/2009 - 8:50 A.M. EST (latest update today) - Added a bunch of new screenshots and info on the Globe Splatterhouse shoes (which can be ordered here) to the section on the new game, plus new artwork by Dave Wilkins in Artwork and a new bit of trivia about Rick's cameo in Tales of Eternia/Tales of Destiny II (PS1) to the Trivia section. There's more coming soon, incluing a bunch of scans from vintage magazines courtesy of Marty Keating.
11/5/2009 - 10:33 A.M. EST (latest update today) - I've finally updated the Splatterhouse (2010) section with scans of the Play Magazine article from the 10/09 issue to the Additional Info page, and a slew of new screenshots from various sources to the Screenshots page. I also added a new piece of fanart, this one by my daughter Katie. There's more fanart coming soon, part of that ginormous update I keep putting off.
Also, Dark_V-Alis pointed out this Splatterhouse Flash collaboration on Newgrounds over on the forum recently. It's worth checking out.
10/27/2009 - 7:22 A.M. EST (latest update today) - Got some new stuff for you, first of which is a scan of the Splatterhouse retrospective I wrote last year for issue #14 of HorrorHound magazine. Check it out: Cover Page 28 Page 29 Page 30
I've also added new, very large and clear scans of Wanpaku Graffiti's cover, manual, bonus stickers and cart to the WG info page.
10/12/2009 - 1:35 A.M. EST (latest update today) - An even quicker update: a nice hi-res scan of Dave Wilkins' cover art for the new issue of Play Magazine can be found in the Artwork section!
10/10/2009 - 1:40 A.M. EST (latest update today) - Just a quick update: the October issue of Play magazine is on store shelves now, and Splatterhouse is again featured! There are apparently two cover variants: one with a new piece of Dave Wilkins artwork and one showcasing the game Magnacarta 2 (which ended up being the one I got, damn it). Best of all, once you turn to the Splatterhouse article on page 48, you can see on page 49 the Biggy Man redesign that I had posted here a couple months back but was asked to remove by Namco Bandai. So as I'm sure you've guessed, I've reposted the Biggy Man pic. Scroll down for a look, or head over to the Artwork section to see it and the San Diego Comic Con poster. So go get a look at Biggy, and don't forget to thank me when you do. I'll tell you why if you ask.
Just a note on the article: no one can accuse the new Splatterhouse of looking too clean anymore. It's starting to shape up to look more like a Splatterhouse game than whatever the hell BottleRocket was cooking up.
9/21/2009 - 9:40 A.M. EST (latest update today) - I'm sorry it's taking forever to do any new updates, but in all honesty my time is so divided up right now that I have to focus only on one thing at a time. I have a boatload of fanstuff to put up, and I swear I'll be getting around to it soon enough. In the meantime, here's a quick recap of notable findings from the forum: there's been a new cameo appearance by Rick spotted in the GBA game Family Tennis Advance (look for it in the Trivia section), and I've replaced the old arcade flyer scan I had with higher quality versions courtesy of The Arcade Flyer Archive - this includes a look at the back of the flyer, something I'd never seen until recently. Find these in the Artwork section. Speaking of artwork, the artist that did the cover for Splatterhouse 3, Julie Bell (as in Boris Vallejo and) is selling prints on their website.
UK-based Splatfans take note: Jonathan Ross is a fan of our favorite series. Don't believe me? Hear it right from his mouth here. I admit, I'd never heard of the guy until this was brought to my attention, but I'm American, after all. Still, cool that there's at least one celebrity out there that not only know what Splatterhouse is, but likes it.
All's quiet on the new Splatterhouse front at the moment, but things are most likely going to start getting hot very soon. At least one piece of merchandise has surfaced: Splatterhouse shoes! According to Mike Wasion, who brought them to my attention: "They're not available quite just yet (they're on backorder, I guess), but you can drop your dimes as soon as these beasts are ready." Interesting that shoes are the first piece of merchandise we've seen (not counting the various Comic-Con promos), especially considering Rick's noted lack of shoes in the original games. But hey, maybe these are special "Rick finally has shoes!" editions.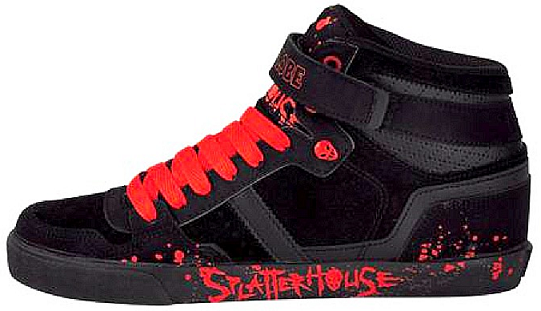 Also, you may have heard that former Splatterhouse developer BottleRocket Entertainment is no more. While I'm glad that they no longer had Splatterhouse, especially since it looked like BR's vision of the game was actually The Mark of Kri III starring Rick Taylor, I am sorry to hear that so many talented individuals are now out of a job, especially given today's economy. I wish them all the best in finding new employment as soon as possible.
That's it for now. Oh, and by the way, keep an eye on any place you know that sells magazines soon. You'll know why I said that when you see it.
8/5/2009 - 7:00 P.M. EST (latest update today) - The move is very nearly complete. Welcome to the new home of West Mansion at kontek.net! The OPCFG and The Ghoul Realm Archive have been moved here too, so make sure you update all of your links and bookmarks.
However, because I've spent so much time working on the move, the new update I've been working on is indefinitely postponed. You can read the West Mansion Interview with Dave Wilkins and Dan Tovar of Namco Bandai Games America here on the site now, though. Check it out here. I've also tweaked the page for the new game slightly, to reflect the departure of BottleRocket Entertainment from the project, as well as the delay from 2009 to 2010.
7/30/2009 - 11:30 A.M. EST (latest update today) - Forgive the lack of updates, but ever since IGN announced that all Gamespy hosted sites were being eliminated as of August 31, I've been concentrating on moving to West Mansion's new host, kontek.net. The site move isn't complete yet, but hopefully it will be soon. I'll convert the main page here into a redirect link when the move is complete.
However, I do have something new that any fan wanting new info about the new game will definitely want to read: an exclusive interview with Dave Wilkins and Dan Tovar of Namco Bandai Games America! Enjoy!
5/29/2009 - 1:35 A.M. EST (latest update today) - A real quick update here: remember seeing the Biggy Man redesign for the new Splatterhouse? If you're like most fans, you probably said that it was all wrong for Splatterhouse. Maybe it would work in a new Suffering or Manhunt, but not Splatterhouse.
That was the past. "BigFattyMan" is dead and gone. Now, I present to you: BIGGY MAN.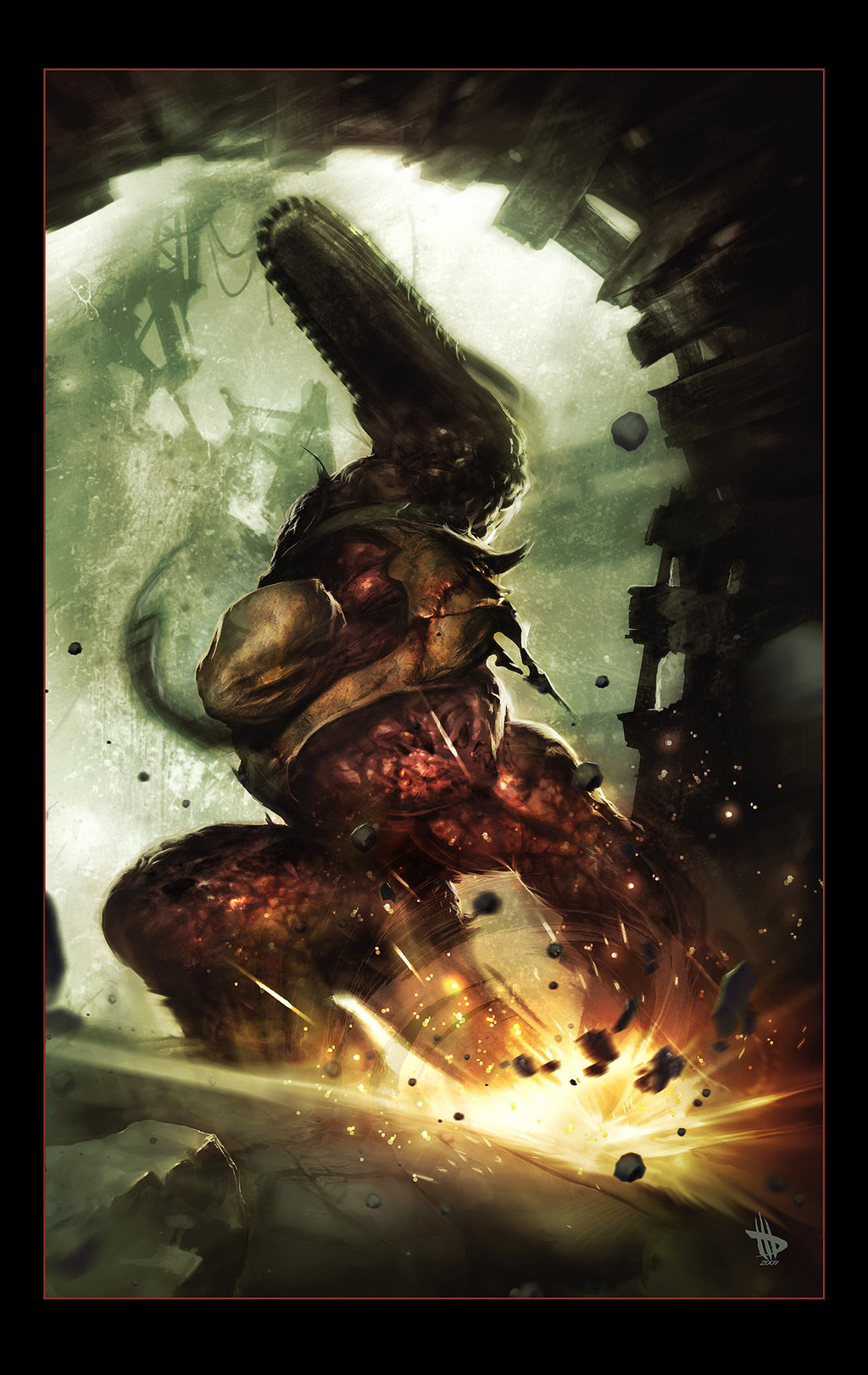 This is the final, in-game design for Biggy. And my friends, I think I speak for us all when I say THAT'S MORE LIKE IT! And by the way... you're welcome. I'll tell you what I mean by that sometime.
In other news, I've added a pic of Dr. West from the new game to the Artwork section. Much like Fatty, it may have been scrapped, but we don't know for sure right now. And rest assurred, yes, the update I've been promising is coming!
5/20/2009 - 10:03 A.M. EST (latest update today) - Okay, so I haven't been back to update in a while. Sorry. Real life and all that. Anyway, I wanted to talk a little bit about a fantastic fan game that's continually being updated based on feedback, but the current version can be downloaded right now: Splatterhouse 4! Yes, a continuation of the classic series that plays just like 1 and 2, created by Alengard of Animetro. Check out his site for more fangames, including Castlevania Zero and Castlevania: Requiem of Melancholy. For that matter, check out his page on YoYo Games for some more of his creations.
On another note, I've heard that there very well may be a lot of new Splatterhouse goodness at E3, so keep an eye out for coverage. And I promise, next time I update I'll include everything I mentioned in the last update, plus more. Until then...
4/2/2009 - 12:37 A.M. EST (latest update today) - I missed the deadline by 37 minutes, so what? Anyway, plenty o' new stuff here: there's new fanart from Shadic Alucard and Taiya001; there are new sections for Toys/Models and Cosplay (located below the Humor section in Artwork) - the Cosplay section in particular includes new submissions from Shin Lunaar, webmaster@kickhit.com and Aaron; I've updated the Links section for the first time in forever with a link to the official site for Splatterhouse (2009); and finally, the retro magazine scans from Marty Keating that I promised on 3/28 are up, all for the original trilogy (the TG16 port instead of the arcade, in the case of Splatterhouse). These can be found in their respective Additional Info sections. Several of them I recall quite fondly, namely the VG&CE review of Splatterhouse and the DieHard GameFAN preview of Splatterhouse 3, which I must have memorized by the time the game came out.
There's a bit of news on the Wii Virtual Console front: as you may have heard, you can now get arcade games through the service, and wouldn't you know it, Namco Bandai announced that Splatterhouse will be available for download. Of course, at the moment it's only slated for Japan. Here's hoping it arrives on these shores (preferably uncensored).
That's it for now. Next time expect a new piece of fanfiction by Jack Necron, plus some other stuff.
4/1/2009 - 2:05 A.M. EST (latest update today) - I just wanted to go ahead and call more attention to chuckporn's fanfilm, which you can see by clicking this link. There will be a bigger update, the one I promised on the 28th, coming later today.
3/29/2009 - 1:55 A.M. EST (latest update today) - Call me a bonehead if you will, but I totally forgot to include the link to the official site for the new game when I updated yesterday. Hey! That makes TWO Splatterhouse sites on the net now! All right!
3/28/2009 - 2:05 P.M. EST (latest update today) - I'm back. It's been a rough couple of months, during which my access to the internet was limited to the occasional trip to the public library, which is why I haven't updated since December of last year. But I'm back, and we can begin again.
A lot of things have been going on with the new Splatterhouse game, namely that BottleRocket is off the project. Those of you that have been following the news already know this, I'm sure. However, the game is still coming out, and I will still be covering it here. There's two new pieces of official artwork in the Artwork section: a reimagining of Biggy Man (referred to hereafter as "BigFatty Man"... if you haven't seen it yet, you'll understand why when you do) by Roger Robinson and the poster from the NY ComicCon by Dave Wilkins.
The fun part for me has been trying to upload all of the new fan submissions and such that I've been receiving since December. I've included a lot of them in this update, most fanart. There are new pieces by V-Alis, cubivore, Chuckporn (complete with a link to his Splatterhouse fanfilm), Sgraff and new artwork from Sr. Lan Belmont, thedarkcloak, Kirk, Valtry, Carlos Messuti, silentenigma, gaetano125, phycosmiley, larryhazard, and SonicSpeeder18. Jon Lewis and Mark Patraw also sent in pics of their custom Splatterhouse toys. Mysterious Bob also sent me some nice clear scans of the Mask's cameo in Tekken: Dark Resurrection, which can be seen in the Trivia section. For that matter, I've uploaded a new version of the Splatterhouse Digital Hardcore remix from the PS2 game Technic Beat, this time straight from the OST. I found a copy of it late last year and picked it up (it was only $3, complete), only to find out that trying to get through that song was as hard as Yashiro Nankase told me it was. Burning Force is no cakewalk either. Find the new mp3 in both the Music and Trivia sections.
I've got more stuff coming the next time I update, including a couple of Rick cosplayers plus retro magazine scans courtesy of Marty Keating and whatever else I dig up.
---