WHAT'S NEW

12/3/2008 - 10:18 P.M. EST (latest update today) - Okay, this time I have a legitimate excuse as to why it's been so damn long since I last updated. My internet connection has been kaput for the better part of the past month and a half. But it's (mostly) fixed now, and I'm ready to start updating again. If you've sent me something to add to the site, be patient: I have it all properly filed, and it will be added to the site in the near future. It may take a couple months to get everything added, but it's coming, I promise.
The November/December issue of HorrorHound magazine (#14) is on shelves now (and has been for quite some time), and the Splatterhouse retrospective co-written by yours truly is in there. Expect scans to be posted at some point in the near future. To those of you that have visited West Mansion for the first time because of the retrospective, welcome!
I know I missed the big trailer debut for the new game, but I have the link up, along with scans of the October issue of PLAY magazine and the new logo, in the Games section. Dave Wilkins was nice enough to send me a picture of the cover artwork sans text, which can be found in the Artwork section along with three new pieces of fanart by Sgraff. On the subject of the logo, I have to offer my opinion: I don't like it. It's terrible. Completely terrible. It doesn't convey the whole Splatterhouse feel at all. It looks so generic. Bring back the original logo, guys. There's so much that you can do with it now... animate it, make it look like real blood, have it ooze down the screen and so on. It'll convey that whole blood-soaked feeling that you're going for.
Did anyone happen to see the episode of Sci-Fi's Destination Truth that aired on September 9th (yeah, MEGA late to this party, I know)? Specifically, I'm wondering if Adrian Mims saw it. Y'see, it turns out that our good friends at the Sci-Fi channel used Adrian's rendition of the boreworm on the show, representing an Icelandic "worm monster". I haven't been able to contact him to find out if they got his permission or not, so I thought I'd mention it here in the hopes he sees it, in the event that they didn't get his permission. Click the image to see it fullsize.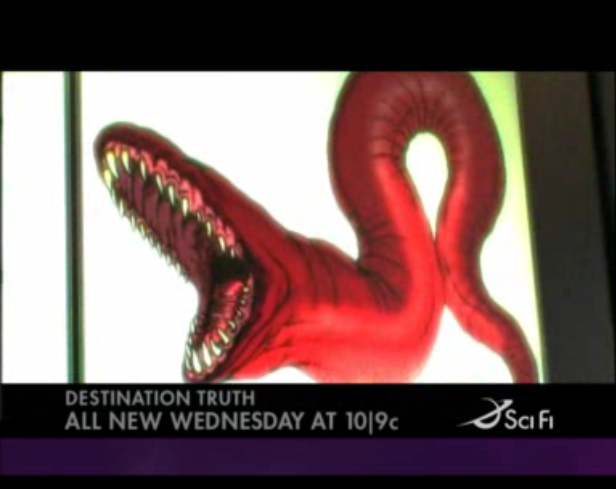 One thing I wanted to mention is three new OpenBOR mods that I have available for download right now (currently PC only; Dreamcast versions hopefully coming soon): Splatterhouse: Deception of the Mask, Splatterhouse: Journey Through Hell and Splatterhouse: Back To Light. They'll be getting their own Fangames section before too long, but until then here's the download link. For that matter, I've added a section devoted to the first known Splatterhouse hack, "Splatterhouse Chrome", in the Games section. I've also added a bit about the defunct fanmade fighting game, Namco Super Heroes, to the Graveyard. I've also added a section of the Artwork page devoted to Japanese fan art. Names of the artists will be posted if I can find out who did what.
As always, the forum is the place to go for most new news and fan projects. So until next time, enjoy!
10/1/2008 - 8:15 P.M. EST (latest update today) - Over a month now with no new updates. Sorry, but I've been pretty out of it lately.
Anyway, some new news. The October issue of PLAY magazine is on store shelves right now, with a nice big article on the new game. The November issue of HorrorHound magazine (issue #14) should be hitting shelves soon, and in that there will be a huge Splatterhouse retrospective. Check it out... you may just see a very familiar name attached to the article.
The forum is where most of the major fan activity is going on right now. Mike Wasion has been posting his latest epic, a loaded-with-'80s-nostalgia tale called GORE MANSION, coming Fall '88 from Namco, as well as its companion piece The Toxic Times. Expect to see them posted here once they're done. There's a lot of other stuff going on there too, so why not stop by and check it out?
I've got a lot of stuff to put up, but that won't come until later. Stay tuned!
8/27/2008 - 3:25 P.M. EST (latest update today) - Almost a month with no new updates. To be honest, getting used to my new job has left me pretty drained. Plus work on the next couple of Chronicles of the Raven stories has resumed, so a lot of my time has been taken up by those.
But I do have some new stuff for you. First, as you may or may not know, Splatterhouse 2 was recently released for the Wii Virtual Console. I expect 3 to be showing up before too long at this rate, or at least sometime before the new game hits next year. There's new artwork from chuckporn and Sgraff in the Artwork section, including the first piece of Metamorl (the fourth boss of Splatterhouse 2) I've ever seen. Sgraff has also been working on an extended "notes and analysis" essay which can be seen over on the forum. Rodrigo Shin has sent me the entire OST for Wanpaku Graffiti. It can be found in the Music section.
Finally, Mike Wasion has completed his latest epic, a lovely little tale called Tomb Womb. I have to admit, this might be his most disturbing entry in his ongoing series yet. Check it out over in the Fan Fiction section
That's all for now. Hopefully I'll have more to give you soon.
7/30/2008 - 11:32 P.M. EST (latest update today) - Sorry about the lack of updates, but I've recently started working a new job. Plus I recently reopened the OPCFG, taking it in a brand new direction in the process. Check it out, and if you want to contribute a review, please do!
On the Splatterhouse front, there's some new fanart from V-Alis and cubivore, news of a song about Splatterhouse by the Koffin Kats and pics of the "Splatter Mask" from Tekken: Dark Resurrection from Brick McBurly, and the final Lost In Translation article has been posted! Find links to it in both the Trivia and Splatterhouse 3 sections.
7/11/2008 - 9:50 P.M. EST (latest update today) - Got a lot to talk about today, so let's get started. First, Brick McBurly has sent me a boatload of scans, including the back cover and instruction manual for the European version of Splatterhouse 2, along with scans of the 2004 release of the PC version of Splatterhouse. Find them in their respective sections. Brick also sent the following piece of info regarding Wanpaku Graffiti: "Also, a fun little fact is that the Japanese Castle in the first secret level of Wanpaku Graffiti is Heijyo-'Peace Castle'. It's also an older name for the city of Nara (usually Heijyokyo)."
As it would seem, Splatterhouse Part 2 was released for the Japanese Virtual Console on July 1st. Look up more info on it here. There's also a new piece of fanart from Cartoongore, which can be found in the Artwork section. Finally, on June 30th, I received the following email from Frank Stringini of StringAnime Corps:
"This is a notice about StringAnime Corps.' 'Splatterhouse Flash Mini-game.' The Game is finished and uploaded to StringAnime Games. Also a Playthrough from Beginning to Good-ending is uploaded onto YouTube.
We understand the game has glitches (like sometimes being able to kill a boss in one punch), and based on your internet connection and ram/proccessor, gameplay results may vary, but we at StringAnime Corp hope you see that we offer something unique to the Flash gaming scene.
One last note, there is a 15 second load time when you start up the game(we are working on fixing that:), it looks like a black screen finished loading but it is in fact loading, we apologize for the absence of a pre-loader animation and thank you for your patience."
Feel free to discuss the StringAnime Flash minigame on the forum
7/10/2008 - 3:30 P.M. EST (latest update today) - Diehard GameFAN has posted an interview with Dan Tovar and Mark W. Brown of BottleRocket! Go check it out here. There's some more info on the new game that wasn't revealed in EGM or in the Sega-16 interview, so enjoy!
I'd have posted this the day it went live on the Diehard GameFAN site, but some unexpected internet connectivity issues prevented me from getting on. But I'm back now, and there will be another update coming very soon.
7/6/2008 - 6:40 P.M. EST (latest update today) - Sorry about the lack of updates recently, but some serious PC troubles have prevented me from updating. It's not getting any better either. I'm able to update right now, but this is only a temporary splint that may give out on me at any time. I do have some new Splatterhouse stuff to upload, but time is short at the moment so I'm not doing it right now. However, if you'd like to keep West Mansion up and running and might be able to help in the hardware department, drop me an email.
6/19/2008 - 9:05 P.M. EST (latest update today) - I've got a very, very nice new article for you to read in the Trivia section: forum regular Rodrigo Shin and his friend Felipe "Dios" have been hard at work translating all sorts of Japanese Splatterhouse info from the original four games! The end result (not complete yet; there is still more work to be done and the Splatterhouse 3 section isn't ready yet) is now available for viewing: presenting Lost in Translation: The Splatterhouse Series! Go check it out, and feel free to stop in over on the forum to let Rodrigo know what you think, and if you really enjoy the article and want to see more Japanese Splatterhouse info translated, I strongly encourage you to drop Dios an email and let him know.
I've also added the complete credits to Splatterhouse (arcade & PCE/TG16) and Splatterhouse: Wanpaku Graffiti to their respective Additional Info sections, courtesy of Haniwa Dogu. That's it for today, but there is one more thing worth mentioning: Mike Wasion is hard at work on a fourth piece of Splatterhouse fanfiction, with at least three more coming in the future. Undoubtedly they'll be as gory and twisted as his previous three tales. I can't wait to see what he's got in store for us.
6/11/2008 - 5:48 P.M. EST (latest update today) - It's update time again, so let's get started. First, Sega-16's interview with Dan Tovar and Mark W. Brown of BottleRocket has been posted! Go check it out here - there is some new info on the new game that wasn't revealed in EGM, so enjoy!
Here at West Mansion, there's new artwork from Kate Glasheen and a new wallpaper from forum member Double L, all of which can be found in the Artwork section. 5thman has sent over some nice new high quality, large scans of the front and back covers of both Splatterhouse 2 and Splatterhouse 3, all of which can be found in their respective Additional Info sections. Mike Wasion has finished up the last story of his current trilogy, Our Father Who Art In Hell, which can be found in the Fanfiction section. Be warned: much like his earlier stories The House That Stole Toys and Rite of Spring, this tale is extremely graphic and brutal. Mike also donated a new banner, which can be found on the Links page. I've also gotten the official okay from Namco Bandai to post the scans of the EGM Splatterhouse world premiere article. Those can be found in the Additional Info section of the page for the new game.
A couple of notes: I realized that I didn't have a sprite representing the Lead Pipe from Splatterhouse 3 in its weapon section (it's the only weapon not listed in the instruction manual), but that has now been rectified, thanks (again) to V-Alis. I'm also in the process of replacing all of the arcade screenshots I had with higher quality ones. The originals were all .jpgs, and frankly, they looked like crap. The new ones are all in .png format, so the quality is much improved. Thanks to Matheo13 on the forum for providing them to me, as well as the ones yet to come.
5/29/2008 - 8:40 P.M. EST (latest update today) - Got some new stuff for you today, so let's get started. I did go see Indiana Jones and the Kingdom of the Crystal Skull opening day (and again yesterday). I really liked it. I'd rank it about equal (or perhaps just a tad more) with Indiana Jones and the Temple of Doom.
On the Splatterhouse front, IGN has announced the new game on their site. There's two new pieces of official art for the new game and new pieces of fanart from Kate Glasheen and F.I.A in the Artwork section, and the weapons sections for the arcade, Famicom, TG16 and both Genesis games have been expanded to include sprites of each weapon, courtesy of V-Alis. 5thman has also sent me his new versions of both Splatterhouse 3D and Return to Splatterhouse 3D, which can be found on their respective pages.
Complete staff listings for all four original games will be being added to their respective pages soon, as will Nate's story Splatterhouse: Inheritance and Mike Wasion's story Our Father Who Art In Hell. In fact, if you'd like to check it out before it gets posted here, Mike did say he'll be starting to post it sometime tonight or Friday, although he's shooting for tonight. As he put it: "The story is in the same vein as the previous two, but nonetheless very different; less subtle in a way (deliberately so), more over the top....there's pound-for-pound more slaughter than the previous two stories combined, but it's a little more 'fun', for lack of a better word....less intimate, less painfully-wrought, but still twisted to the core. This is a fun one, this is the early 80's Italian horror video you accidentally stumbled upon as a kid."
And of course, more will be coming soon!
5/21/2008 - 6:50 P.M. EST (latest update today) - Indiana Jones and the Kingdom of the Crystal Skull starts tomorrow, and I am pumped. Just a few hours to go... so I thought I'd come update the site while I was killing time.
Got a lot for you today. First, I've opened the page for the upcoming game. You can see what little we have on it at the moment there. Second, there's some new fanart by Chuckporn and V-Alis, the latter being the latest imagining of the fan-favorite concept "Masked Jennifer". Check their new art out in the Artwork section.
Mike Wasion has come through with his latest Splatterhouse tale, Rite of Spring. Be warned: if you have a weak stomach (and if you do, why the hell are you playing the Splatterhouse games?), you may want to skip this one. It's graphic, it's gory and at times it is just plain twisted. Feel free to stop by the forum to give Mike feedback on it (as well as several of the other stories that he and other members have written), and keep an eye on the place, as he'll be unleashing his next tale of terror there, a story entitled Our Father Who Art In Hell.
Nate has picked up his abandoned fanfic Splatterhouse: Das Kind des Erbes and is completely reworking it at the moment, changing the title to Splatterhouse: Inheritance in the process. He'll also be adding some "gaiden" stories that fill in a lot of gaps in Splatterhouse history, so keep an eye out for those.
In other fan news, 5thman has been hard at work revamping Splatterhouse 3D and Return To Splatterhouse 3D. Here's what he said has been improved:
"While simply trying to make Rick3D's movement smoother, I ended up making a lot of revisions to Splatterhouse 3D 1 and 2. So Splat3D 2.0 is now 3.0, and Splat3D 2 is now 2.0. The changes:
- Rick should no longer get stuck on walls / in doorways at all. Movement is smooth as a baby's rear.
- Minor level fixes
- F4 toggles fullscreen and windowed view modes.
- Rick's attack mechanics are totally revamped. They look the same, but are no longer "hitscan" based. You'll see the difference the next time you smack four or five ghouls at once with the pipe.
- The portal battle in Splat3D 2 is batshit crazy. It now vomits hordes of assholes at you instead of just a couple at a time.
- Added a new weapon for Splat3D 2: the potassium bomb!"
Look for those here soon, along with plenty of other new stuff!
5/12/2008 - 9:02 P.M. EST (latest update today) - I've got a lot to cover today, so let's get started. First, a little non-Splatterhouse related bit... I can't wait for the release of Indiana Jones and the Kingdom of the Crystal Skull, which you may be able to tell by viewing the current banner and thread about the film on the forum. I've got my ticket already, and I will be there on May 22!
Sorry, I just had to get that out of the way. Okay, Splatterhouse. The first thing you've undoubtedly noticed is the new banner on the main page, and the anniversary banner right up there. Both were created by Len Clark, from original ideas by me. Yes, I know all about the new game! I have since the day 1up.com announced it! Thanks to everyone that emailed me about it... days, even weeks, after I'd posted the news here. Folks, you should definitely check this very section for any new news. That's why there's a "Last Updated" note on the main page. The new issue of EGM is on store shelves right now, if you didn't know.
Besides the upcoming West Mansion Q&As, several other websites will be hitting up BottleRocket for interviews. The first one (which should have been out by now, who knows what's taking so long) is the extended interview with EGM. The only other one I know of at the moment is an upcoming interview with Sega-16. I don't know exactly when this one will be happening, but when it does happen there will be a link to it on the forum, if I don't update the site until after it's been released. We probably won't see the Sega-16 interview until after the EGM interview, due to the exclusivity clause EGM has with BottleRocket at the moment. I have posted a few screenshots of the new game in the New Splatterhouse Games? page (a dedicated page for the game will be coming soon). Don't go looking for anything new, these are the same pics that have been floating around online for a couple of weeks now (courtesy of 1up.com and Xboxygen.com). I do, however, have the entire EGM article scanned and ready to be put up - but I'm not doing that until I get the official word from Namco Bandai that I can.
The announcement of the new game has woken the fan community up with a start, and things are starting to get hot. I've updated the Artwork page with new art by chuckporn (including a fantastic photo of his "Splatterhouse cleaver"), two Photoshopped reworkings of the Splatterhouse logo by Vlygar and some awesome monster designs by Mike "corpsemonger" Wasion. The Music page has been updated with tracks from the 1989 Japanese CD Winning Run: G.S.M. Namco 2, courtesy of enrico, and a new guitar reworking of a classic theme from Splatterhouse 3 by Josť Rodrigue. Leatherface also sent in some cellphone themes which you can find in the Miscellaneous section. Best of all, the Fanfiction section has been updated to include the incredibly creepy short story The House That Stole Toys by Mike Wasion (who is hard at work on another Splatterhouse story entitled Rite of Spring at the moment), and for the first time in ages, new fiction from me!: a short story entitled Splatterhouse: The Final Chapter, and an excerpt from my series The Chronicles of the Raven entitled "Mansion", written by myself and Light Sword Cypher Mainframe webmaster Sam Roberts. It features, among other things, a Strider squaring off against a very familiar Splatterhouse 3 creature. How does that not kick ass? Go check them out!
The forum has been pretty active lately as well. Most of the new fanworks were originally posted there, so if you like what you see and read, why not go register and join the discussions? Don't forget, there's a chance that what you have to say about the new game will be read by the guys at Namco Bandai and BottleRocket. Don't miss your chance to possibly help shape the direction it will take!
One last thing: my book Memoirs of a Virtual Caveman is available now for the low price of $14.99. What, did you expect me not to advertise it again?
4/30/2008 - 7:00 P.M. EST (latest update today) - Things are about to get a lot more interesting around here.
First, I'd like to announce that the official West Mansion forum has been restructured in anticipation of the new game. It is now viewable to the public, and registration is still free. There's been some interesting discussion going on in there over the past week, so if you'd like to talk about all things Splatterhouse, sign up now and join in! It's now also the home of the forum for my good friend Sam's Strider website The Light Sword Cypher Mainframe, so if you're also a Strider fan, you've got even more reason to join! Also, while you're there you can check out the story series Sam and I have been jointly developing, The Chronicles of the Raven (in which we've incoporated elements of both Splatterhouse and Strider, along with several other classic videogame franchises) and give me feedback on my book Memoirs of a Virtual Caveman, which is available now for the low price of $14.99.
Leatherface recently sent me links to some articles he wrote about the Splatterhouse series. They're in French, so I can't read them, but he did link to West Mansion in them and was gracious enough to ask permission to do so first. So if you can read French, head on over and check them out now (personally, I wouldn't recommend running them through on online translator, as those things don't do a great as a job as I'd like): Page One Page Two Page Three
Stephen Stone has sent me something very cool: a zip file that contains userboxes, userbars, and userbuttons for use by both fans of the Splatterhouse games and fans/visitors of West Mansion. You can download them here or go download them from Stephen's deviantART page. Also, Jonathan Hitchcock sent me a new picture of Rick, which can be found in the Artwork section.
Speaking of the Artwork section, I have some exciting news. Remember in my last update when I said that West Mansion hadn't gone unnoticed? It's time to explain just what I meant by that.
The day after the big announcement, I received an email from Dave Wilkins, who drew the artwork on the cover of the new EGM. We emailed back and forth for a little bit, with me trying to get some details about the new game, but of course he's sworn to secrecy. Okay, that's cool. I look forward to talking with him fan to fan after the new EGM is out.
That's not all. Shortly after that, I received an email from Namco Bandai themselves. In it, I was told that "we've all been checking out your site since we kicked off the project" and that "it's pretty impressive and definitely the best Splatterhouse fan site out there." WHOA. My first thought was "Namco Bandai actually knows that West Mansion exists... and they like it! Wow!"
But it gets even better, believe it or not. The email went on to say that after the new issue of EGM has been on the shelves for a bit, they want to get West Mansion set up with some "cool content", perhaps even a few Q&As with the guys behind the new game! They also said to contact them if I had any requests. You bet I did, so of course I sent an email right back. I didn't ask about the new game - yet - but I did make one request. I asked if they had any classic official Splatterhouse artwork that they might be able to send me.
As it turned out, recently they did acquire some classic Splatterhouse artwork, straight from the Namco Archives in Japan! According to the email I got, some of it was so old that it was on microfiche. They took what they found, cleaned it up and converted it to high-res digital formats, and best of all, they'd be glad to send it to me!
So today, I present to you the first of the "cool content" that will be debuting on West Mansion in the following months: 23 pieces of artwork from the arcade and PC Engine versions of Splatterhouse, a couple of which I've never seen before. I've converted the artwork to PNG format to reduce the files sizes and make them more net friendly. Most of these have surfaced in the past, but only as parts of flyers and instruction manuals. They have never been seen outside of Namco Japan as individual pieces of artwork before. They can all be found in the Artwork section, under the Official Art heading.
So now I have to ask: are you excited yet? Feel free to drop me a line or register on the forum... there's a chance that what you have to say will be read by the guys at Namco Bandai and BottleRocket (I've mentioned to them that they should keep an eye on the forum if they're interested in fan input, which they are). This is not a guarantee, of course, but a possibility.
Stay tuned!
4/24/2008 - 11:29 A.M. EST (latest update today) - Now that the surprise announcement from two days ago has had some time to sink in, I have to ask: are you excited? What we've wanted for so long is finally happening. There are no details to speak of yet, but there is the first look at Rick's redesign that was posted yesterday on 1up.com (hey look! Rick has SHOES!). It does look like it's been confirmed for the PS3 and Xbox 360 at this point, at least according to 1up. Thanks to everyone that dropped me a line to let me know about the announcement and the preview.
As you can imagine, the announcement alone has caused quite a stir, and the picture of Rick has just added more fuel to the fire. I spent a little time last night checking out various message boards, and there seems to be a generally positive feeling out there, namely in the form of comments screaming "It's about time!!!" - usually followed by "please don't screw it up, Namco!" However, the usual "oh crap, it's gonna be 3D" and "that Rick redesign sucks" (as one person put it, "Worse than Radd Spencer with dreads.") comments were mixed in too.
Honestly, though. In this day and age, did anyone expect that a new Splatterhouse would not be 3D, especially if it was going to be released on a console instead of a handheld? As pro-2D as I am, even I could see the writing on the wall. It's something that we're just going to have to deal with, I'm sorry to say. And if the game turns out to be great, as we're all hoping it will, then who's going to care if it's 3D? It worked in Rygar: The Legendary Adventure - the game that to this day I view as being one of best 3D updates of a classic 2D franchise. And hey, maybe the original four games will be included as unlockables (hint hint, BottleRocket) - especially the arcade original, not the PCE/TG16 port.
There's also the fear that it's going to be a Condemned, Manhunt, The Suffering, Silent Hill or Resident Evil clone. I, for one, hope that BottleRocket stays true to the original games without trying to jam any unneccesary adventure/puzzle elements in. Splatterhouse has always been about action, not trying to find X key to open Q door or what have you. Let us smash the crap out of zombies with 2x4s, not spend time exploring or god forbid, collecting crap. I understand that that might be a hard sell in today's world, but to do otherwise would be a slap in the face to the originals and the fans.
At any rate, until concrete info surfaces, all we have to go on is one piece of artwork and one character model. So let's keep a positive attitude about this one. We'll see how this progresses as time goes on...
Now, onto some other news: West Mansion needs a new look. Anyone out there good with web design? If you'd like to put together a new look for the site, just drop me a line. I can't offer much in payment aside from a signed copy of Memoirs of a Virtual Caveman (available for the low price of $14.99!) and my undying thanks, but hey, at least that's something.
Also, let me say this... West Mansion has not gone unnoticed. But that's all I'm going to say at the moment.
4/22/2008 - 9:03 P.M. EST (latest update today) - I think this about says it all: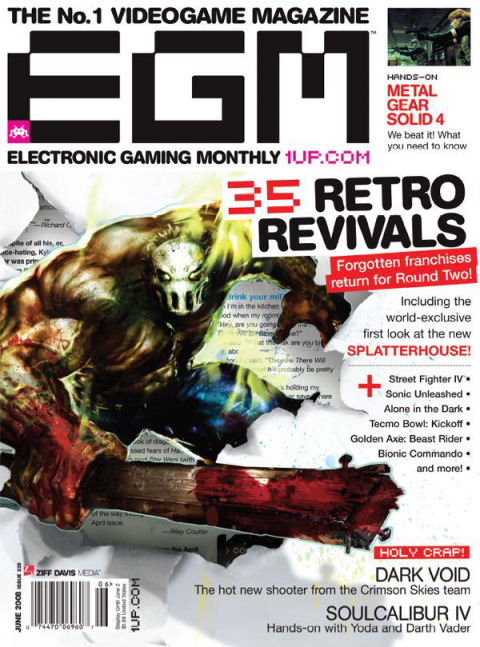 3/29/2008 - 1:50 P.M. EST (latest update today) - Unexpected breaks and long periods of time without activity here is something you should all be used to by now. As you all might have been expecting to hear, I've been off promoting Memoirs of a Virtual Caveman (did you buy your copy yet?). It's been featured on the front pages of Hardcore Gaming 101, The Logbook.com and of course, right here on Classic Gaming. I also attended MomoCon in Atlanta two weeks ago and was on the Retrogaming Panel (which was filmed and will be included on the MomoCon 2008 DVD) because of the book. However, what you may not have expected to hear is that I have moved yet again, and as of now I'm in Connecticut again for the first time in almost four years.
I'm not here today to talk about the book, though... I could, but I won't. Maybe. Anyway, I did put up some new Splatterhouse stuff: the first three chapters of a fanfic by Konoshiro and a new piece of fanart by Axemunger. It's been pretty quiet on the Splatterhouse fan scene as of late, but that may be a good thing. That means less work for me to do here, after all.
What? You want to hear more about the book? Okay, how about an excerpt from chapter ten, "Meeting Mr. Taylor"?
***
Quincy stayed with us for the entire summer. One day, he and Ryan had gone out with my parents to the mall and Toys 'R Us, and when they came back they each had a new game. I forget which one Ryan had (it was for the Genesis, that much I do recall), but Quincy had a new Turbografx game. He ran into our room, popped it into the system and turned on the power.

"So what did you get?" I asked as I entered the room.

He tossed me the box. On the cover was some kind of hulking humanoid figure, with a bag over his head and chainsaws in place of hands. He appeared to be fighting... Jason Voorhees? But "Jason" had a 2x4 in his hands, and judging by the way he had it raised to strike, he was about to give Chainsaw Hands the worst beating of its undead life. They appeared to be in some kind of a haunted house or an abandoned building. There was a blood splotch on the lower left hand corner of the cover that advised us that "the horrifying theme of this game may be inappropriate for young children... and cowards."

The title, which was written in red blood and green slime, oozed its way down the front of the box, combining and congealing to form the game's title: Splatterhouse.
***
Intrigued? Well then, order your copy today!
2/18/2008 - 4:55 P.M. EST (latest update today) -

Yes, my long-awaited first book, Memoirs of a Virtual Caveman, is available for purchase now through Lulu.com! It weighs in at 153 pages, costs $14.95 + shipping and also features stories by former West Mansion staff members Len and Mike. The fantastic cover artwork was done by PrimeOp, and the book's editor was none other than 5thman, of Splatterhouse: 2k3, Splatterhouse 3D and Return to Splatterhouse 3D fame.

Visit the official site here and place your order here. Thanks in advance to everyone that orders!

Oh, and I do have some new Splatterhouse stuff to put up. Watch for it soon!




1/11/2008 - 2:28 A.M. EST (latest update today) - Happy slightly belated New Year, everyone. It's been pretty quiet on the Splatterhouse front, but I've been keeping busy. Anyone remember me mentioning a book I was working on late last year entitled Memoirs of a Virtual Caveman? It's getting closer to completion, so today I launched what's going to become the gateway to the official site. Check it out here.

I do have a little bit of new Splatterhouse fanstuff in this update, namely pics of a custom Splatterhouse hat sent in by Chris in Chicago, and from Noob splatterfan, a comparison between the Terror Mask and the mask worn by Mick Thomson of Slipknot. I'll file these into the appropriate sections later.
---

image courtesy of serjio