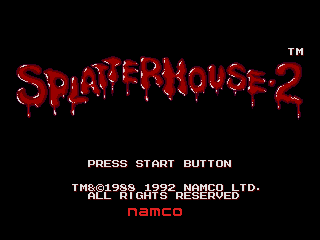 Game Info | Screenshots | Weapons | Characters | Monsters | Passwords | Stages | Lost in Translation | Additional Info
HANDY HOUSEHOLD WEAPONS *
From the journal of Dr. Mueller: "I have begun to notice strange things in the woods. I have become uneasy. Today I cataloged all the potential weapons in the house. Not very impressive I'm afraid. At times like this I wish I had shown a keener interest in hunting.
"Pipe - Left over from remodeling, it could make a handy bludgeon.
"Bone - A gift from a paleontologist friend. This fossilized leg bone is a hard hitter.
"Chainsaw - I suppose this can cut more than firewood.
"Shotgun - I managed to find eight shells, I hope that will be enough.
"Potassium bomb - I have a small quantity of potassium placed in glass vials. When broken they explode and burn."
OTHER WEAPONS (not listed in the instruction manual)
"Clippers - They can only be thrown, and once you've thrown them you can't get them back. Use them to knock the chainsaw out of the air.
"Oar - Used to knock Deadmen into the lake, and would be an excellent weapon under ordinary circumstances... however, it is slow to use, and is almost useless when Deadmen are close. But it does look funny to see the Deadmen go flying off into the lake.
"Ghoul's head - Found at various places in the basement. It can be thrown, then disappears. If it hits a ghoul, it has tendency to break them in half, sending a legless ghoul scurrying after you.
"Spikes - Lobbed at you by the Leviathan. These have to be knocked out of the air and thrown back at it - aim for the eye!"
* indicates material taken directly from the U.S. instruction manual