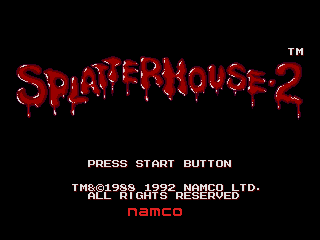 Game Info | Screenshots | Weapons | Characters | Monsters | Passwords | Stages | Lost in Translation | Additional Info
SCREENSHOTS:
ADDITIONAL SCREENSHOTS (courtesy of Victor Schreck):
ADDITIONAL SCREENSHOTS (Monster Deaths) (courtesy of MetalBlessing103@aol.com)
The above pics are from the Sega Genesis version; the version released for the Mega Drive in Japan had Rick in a mask that resembled a white version of the mask he was wearing in the U.S. Turbografx-16 game, rather than the hockey-style mask he had on in the PC Engine and arcade games. Want to check out the Japanese version? Just drop by the Emulation section.
MEGA DRIVE SCREENSHOTS (courtesy of fede molina)