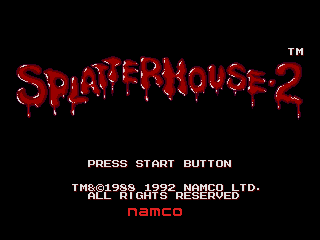 Game Info | Screenshots | Weapons | Characters | Monsters | Passwords | Stages | Lost in Translation | Additional Info
DOCTOR MUELLER'S GUIDE TO BEASTS *
From the journal of Dr. Mueller: "I had mentioned in earlier entries of seeing 'strange things' in the woods. These 'things' are monsters. I can't believe my luck. This is a tremendous chance to capture and study these creatures. I have made notes based on my observations. I don't understand how the mask fits into all of this, but I'm sure there is a connection.

"Zombie: These shambling creatures literally drool rotten flesh. Indeed, they are as pleasant to smell as they are to see.
"Screaming Mimi: Fascinating creature. There seems to be several types leaping about the woods. They all emit a piercing scream. Jack and I have set several traps to attempt to capture one for closer study.
"Ghoul: I saw one of these creatures on the old sewer. It appeared to be related to the zombie creature, but without the red ooze. Yet it retained the pleasant feature of drooling ropes of rotting flesh."
* indicates material taken directly from the U.S. instruction manual