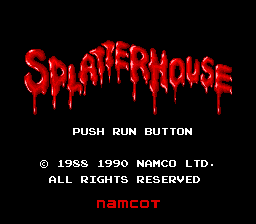 Game Info | Screenshots | Stages | Weapons | Monsters | Codes | Additional Info
Stages of the Game *
There are seven levels or "stages" of the game that must be cleared (each stage has multiple areas). In the final level, you will face the leader of the eerie ghouls, zombies and creatures that were created by Dr. West.
STAGE 1: THE UNDERGROUND DUNGEON
Here chained cadavers (Zombies!) and bizarre creatures crawl around inside an eerie dungeon. Razor-sharp spikes thrust out at you from the floor.
Weapon: Two-by-Four.
STAGE 2: THE SEWAGE CANAL
Roped corpses fall from the ceiling and Sludge Monsters attack you at every turn. When you reach the final room, you must battle a gruesome poltergeist.
Weapons: Two-by-Four and Wrench.
STAGE 3: THE FOREST AMBUSH
Rick's search for Jennifer continues as he goes into the forest, In a steady downpour, he readies his gun as monsters wait in ambush.
Weapons: Shotgun and Stone.
STAGE 4: THE FORBIDDEN ROOM
All who enter, BEWARE! Avoid the spinning razor-edged blade. Enter the Hall of Mirrors... see figures from the darkside!
Weapons: Spear and Golden Cleaver.
STAGE 5: THE RENDEZVOUS
Searching for his sweetheart, Rick fights on through demons and evil spirits that lie in wait at every turn. The two meet again, but...
Weapon: Two-by-Four.
STAGE 6: THE WOMB
Inside this cave, the noxious monsters are born. If Rick cannot destroy the newborn evil here, the nightmare will continue forever!
Weapon: None!
STAGE 7: THE FINALE
Here, if Rick succeeds in defeating the Demonic leader, the cursed "Terror Mask" will return to it's resting place and our hero will return to normal.
Weapons: None!
* indicates material taken directly from the U.S. instruction manual