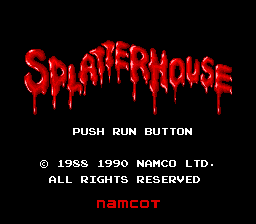 Game Info | Screenshots | Stages | Weapons | Monsters | Codes | Additional Info
CODES:
Harder Game -
At the title screen, hold the Select button down until the word "HARD" appears on the screen.
Level Select -
While the rain is falling on the title screen, press Run and press Select, Select, Select. Next hit Button I while holding Down-Left on the directional pad.
Note: If you select level 0 you'll warp to the fight with the Jennifer Demon.
Sound Test -
Enter the Level Select code, then press Select to bring up a sound test menu.