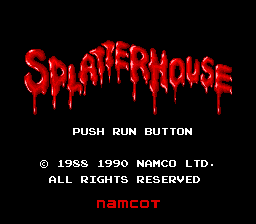 Game Info | Screenshots | Stages | Weapons | Monsters | Codes | Additional Info
Meet the Monsters *
Here are Dr. West's evil hordes - the products of his experiments gone awry!
Red Walking Zombies - Keep coming at you!
Green Walking Zombies - Are out to get you!
Chained Corpses - Spit up disgusting, deadly slime. Cannot be destroyed.
Bats - Fly high and low.
Large-headed Demon - Chop its head off! But look out - once you chop it off, it will come flying after you
Sludge Monsters - Attack with lethal punches.
Hanging Corpses - Fall at you from the ceiling.
Crawling Red Slime - Will grab hold of your leg and will rip you to shreds!
Crawling Slug - Will disgust you with it's presence!
Knives - Will pierce you with their needle-sharp points.
Chairs - Will try to pulverize you!
Crawling Hand - Tries to slap you into oblivion.
Newborn Monsters - Will jump on your back if you let them live!
Fire Demons and Fire Logs - Cannot be destroyed and must be avoided.
* indicates material taken directly from the U.S. instruction manual