Splatterhouse: Wanpaku Graffiti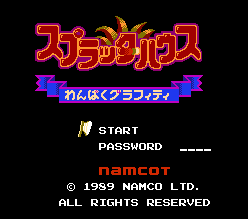 Game Info | Screenshots | Weapons & Items | Characters | Codes & Passwords | Additional Info
WEAPONS:
Cleaver: Your primary weapon. You always have this, unless you have a shotgun - but the minute you run out of shotgun shells, you're back to the cleaver.

Shotgun: You find this scattered throughout the various stages. Each one comes with ten shells. You can't pick up another shotgun when you already have one and combine the bullets - the most it will do is put your shell count back up to ten.
ITEMS:
Candy: Restores one bar of life.

Hamburgers: Restores several bars of life.
Candy and burgers are plentiful - you can even chop open boxes, chop down trees and stomp on garbage cans to find them. Monsters also drop candy more often than not.