Splatterhouse: Wanpaku Graffiti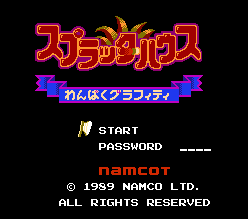 Game Info | Screenshots | Weapons & Items | Characters | Codes & Passwords | Additional Info
---
CODES:
From Arnold Rimmer83:
I have some interesting stuff for you about SD Splatterhouse for Famicom. This game actually has a lot of cheats. I can't take credit for finding them, as I saw them a long time ago on a Japanese page that is unfortunately gone now it seems, after somebody helped translate the page for me. It had a database of every game Namco released for the Famicom, cheats for every Namco game (If said game had cheats) as well as other neat stuff. Some remains of it can be found through web archive.
Anyway I saved the cheats, but kind of forgot I had them for awhile. Since I was playing Splatterhouse a lot recently, I remembered them and thankfully still had them saved on a notepad somewhere.
The first cheat lets you restore your life during the game. Pause the game and hold A & B on controller 2. Then unpause, and your life will be restored. It only works 3 times according to that page, though the cheat seems to work on and off at times.
To see the credits without beating the game, hold up, select, and A then press reset.
After finishing the game and sitting through the credits, press A on controller 2 when the Namcot logo shows up at the end. You'll see your completion time.
The last code is the best one. Hold A & B and down on controller 2, and hit reset. You'll enter a test mode, which has a sound test, and lets you view all the sprites in the game. There's also a sort of hidden easter egg in this mode. Character 25 is the princess from the hidden Japan stage. If you select her 33 times, she'll end up doing 2 animations she doesn't normally show during the game where she takes her robe off. (nothing graphic) Select her 33 times again, and you'll get those graphics again only the second one is slightly different. (She looks more embarrassed)
STAGE PASSWORDS:
Stage II - 1055
Stage III - 3739
Stage IV - 8245
Stage V - 4722
Stage VI - 7397
Stage VII - 8671