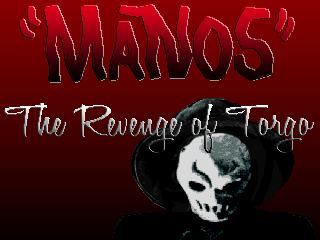 Developer: Rodrigo Shin
Year: 2011
System: PC

THE STORY
Torgo, he who took care of the place while The Master was away. He was injustly immolated while he took care of the place while The Master was absent.
The Terror Mask, a powerful device whose power is only surpassed by its mystery - and its sheer amount of gleefully delivered foul-mouthed lines.
These two terror titans are set on a collision course, ready to unravel the chronology of both Splatterhouse and "Manos" The Hands of Fate (in other words, yes, it's a crossover retcon!).
Before West Mansion, there was the Lodge of Sins.
Before Rick Taylor, there was Torgo.
***
"Manos" The Revenge of Torgo features a hybrid side-scrolling action style patterned visually after Splatterhouse 3 with elements of all of the games of the original franchise found throughout the stages.
- Play as the ultimate cult horror mishmash: Torgo, the satyr, dons the Terror Mask to exact revenge!
- Unique Achievement system, the breakthrough Lazy To Fix Dynamic Scoring™ wherein stumbling on bugs rewards you with points!
- Three difficulty levels!
- Hidden unlockable bonuses!
- Countless spoofs we're hoping you find through your journey on the game!
- The Haunting Torgo theme (a LOT of it)!
- Customizable control layout, including arrow keys, WASD and rudimentary joypad support (Hush, the Master doesn't approve of such devices)!
- Enthusiastic press release with exclamations!